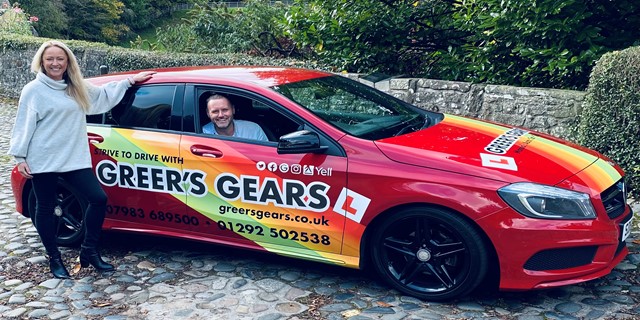 Greer's Gears Driving School Franchise Partnership
Earn more money with us than other local instructors.
Greer's Gears Driving School - 'STRIVE TO DRIVE' and join THE BEST driving school in Ayrshire.
Greer's Gears Driving School covers all of Ayrshire and is a well respected local business often being the first point of call for those looking for driving tuition.
Offering driving lessons for manual, automatic and now CAR + TRAILER towing we have an immediate requirement for additional instructors to help service an increased demand for tuition across all of Ayrshire.
What we offer you as a franchise ?
NO START UP FEES.
Earn the highest local rate for driving tuition at £45 per hour with our standard two hour sessions.
 The first four weeks of your franchise free.
 Two additional franchise free weeks over the festive period with the option to generate additional weeks via our unique 'I.G.I' scheme.
Free pupil supply - no allocation fee's.
Free business support with diary management using our custom platform and student app.
Continued Professional Development training & support for the lifetime of your franchise.
An enviable choice of tuition vehicle fitted with full safety features, dual controls, business livery, comprehensive insurance, high mileage allowances, breakdown cover, replacement car, choice of lease term from 12, 24, 36 or 48 months.
A very fair, competitive and flexible franchise fee that is payable weekly.
Business Support with marketing & advertising. 
Sickness support (Evidence provided).
Trade under our name and brand reputation.
Corporate workwear.