Staycations are the new vacations. But are you Legal to tow ?
Greer's Gears Driving School offer car + trailer / caravan safety and towing courses across Ayrshire, Scotland. You don't need to sit a theory test to take either a course or sit the B+E practical test.
Please note that our course prices do not include DVSA test fees. We will book the test on your behalf, we don't charge extra for this service. You simply reimburse us at the point of booking. The DVSA test fee is currently £115.
How do I work out if I am allowed to tow?
Road Traffic laws changed in 1997 for the majority of people. If you passed the UK Driving Test before 1st January 1997 then you will be entitled to tow. Your licence should show the CAT E (trailer) entitlement on the reverse side of your licence photo card. You can use the UK Gov licence checker service if it is not shown.
All drivers who passed a car test before 1st January 1997 retain their existing entitlement to tow trailers until their licence expires. This means they are generally entitled to drive a vehicle and trailer combination up to 8.25 tonnes MAM.
If you sat a practical driving test after 1st January 1997 then you will be required to take another practical test to gain the licence categories of B (CAR) + E (TRAILER). This will allow you to tow legally on UK roads. There are weight and length restrictions that apply when towing.
Category B vehicles weighing up to 3.5 tonnes MAM and with up to 8 passenger seats may be coupled with a trailer up to 750kgs MAM (allowing a combined weight up to 4.25 tonnes MAM) OR a trailer over 750kgs MAM provided the MAM of the trailer does not exceed the unladen weight of the towing vehicle, and the combination does not exceed 3.5 tonnes MAM. Click here to check the towing capacity of your vehicle.
What does the car + trailer test involve?
At Greer's Gears we use the DVSA testing centre in Kilmarnock. The test itself has the following elements:
Answering 5 Show me / Tell me questions which cover the aspects of vehicle and trailer safety / towing.

Demonstrating your proficiency in trailer handling and safety inspections. You will be required to uncouple and recouple the trailer to your towing vehicle.

Complete a reversing exercise in which you are required to reverse your car and trailer over a set distance negotiating a series of cones and then finish with your vehicle parked within a designated and marked bay.

Undergo a practical driving test in which your driving ability will be formally assessed on public roads over a period of 50 minutes.
Below are some video clips demonstrating the standard required in the reverse, uncouple / recouple and trailer inspections.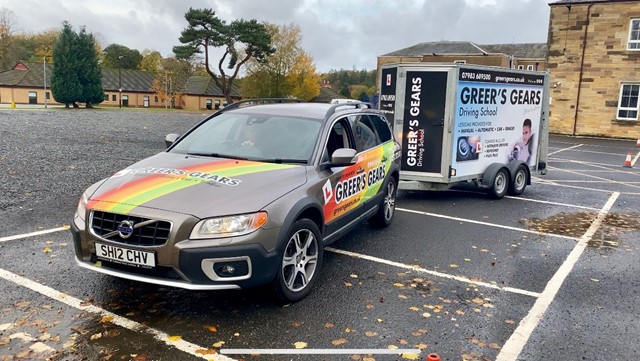 Car + Trailer Reverse exercise
Reverse the vehicle unit around the centre cone and finish the exercise with the vehicle and trailer within the designated bay marked by the cones.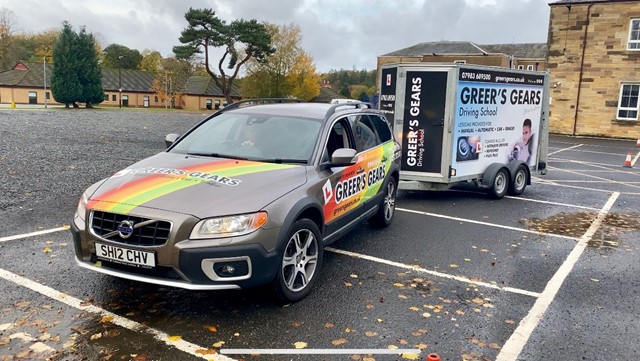 Car + Trailer : uncouple / recouple exercise