Staycations are the new vacations. But are you Legal to tow ?
Greer's Gears Driving School offer car + trailer / caravan safety and towing courses across Ayrshire, Scotland. With recent legislative changes implemented by the UK Government there is now no requirement fro drivers to sit either a theory test or a practical driving test to demonstrate competence in towing.
Please note that our course prices do not include DVSA test fees as practical driving / towing tests are no longer required. 
How do I work out if I am allowed to tow?
Road Traffic laws changed in 1997 for the majority of people. If you passed the UK Driving Test before 1st January 1997 then you will be entitled to tow. Your licence should show the CAT E (trailer) entitlement on the reverse side of your licence photo card. You can use the UK Gov licence checker service if it is not shown.
All drivers who passed a car test before 1st January 1997 retain their existing entitlement to tow trailers until their licence expires. This means they are generally entitled to drive a vehicle and trailer combination up to 8.25 tonnes MAM.
If you sat a practical driving test after 1st January 1997 then you will be required to take another practical test to gain the licence categories of B (CAR) + E (TRAILER). This will allow you to tow legally on UK roads. There are weight and length restrictions that apply when towing.
Category B vehicles weighing up to 3.5 tonnes MAM and with up to 8 passenger seats may be coupled with a trailer up to 750kgs MAM (allowing a combined weight up to 4.25 tonnes MAM) OR a trailer over 750kgs MAM provided the MAM of the trailer does not exceed the unladen weight of the towing vehicle, and the combination does not exceed 3.5 tonnes MAM. Click here to check the towing capacity of your vehicle.
* LEGISLATION UPDATES *
Recent legislation has been implemented allowing drivers automatic entitlement to tow without the requirement to undertake a practical driving test to show competence in all aspects of towing. DVSA still advise that drivers undertake an accredited training programme before towing on public roads.
Below are some video clips demonstrating the standard required in the reverse, uncouple / recouple and trailer inspections.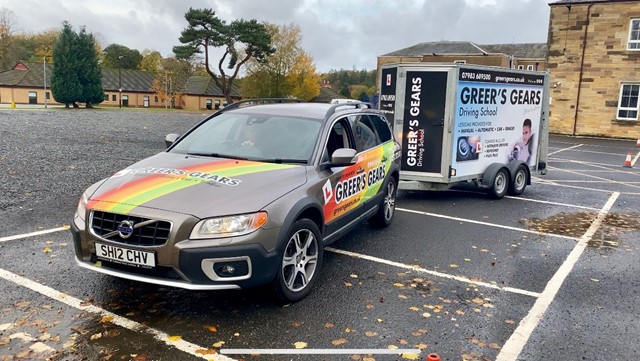 Car + Trailer Reverse exercise
Reverse the vehicle unit around the centre cone and finish the exercise with the vehicle and trailer within the designated bay marked by the cones.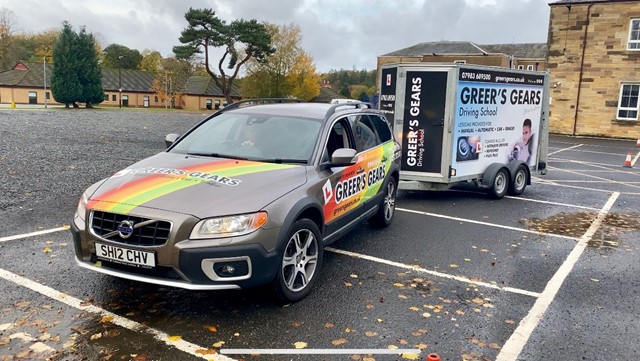 Car + Trailer : uncouple / recouple exercise